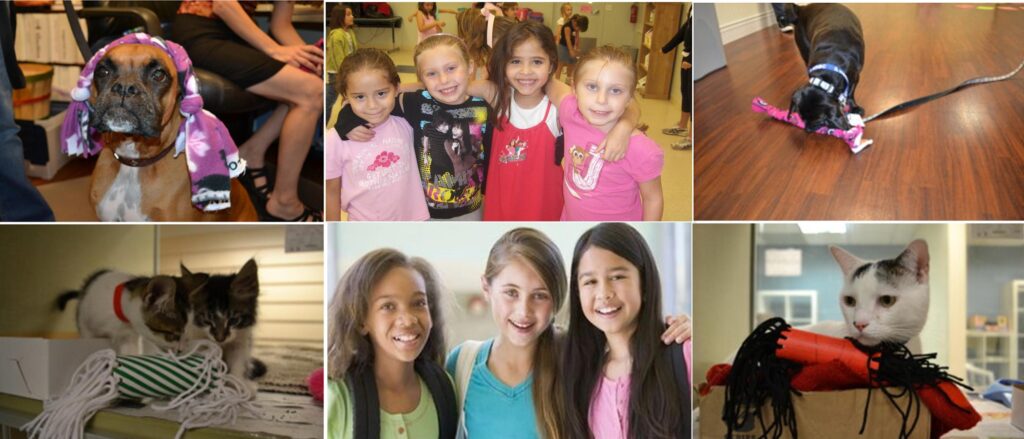 "The BEST All-Around Summer Camp for ALL Girls ages 5 to 12!"
We at America's Leaders believe that all girls deserve outstanding programs and activities that provide positive role models and opportunities to help them reach their potential and to have fun!  Creative activities, community service, great staff and classes that are designed to get your daughter involved and making friends is the perfect combination for a great summer experience that she will cherish!
Our Smart Camp for girls, ages 5 to 12, offers a variety of classes that she will love including:
EXCITING Themed weeks  CLICK HERE for details

FUN Community Service Projects

Energetic exercise classes and activities.

Fun Friday Events and PARTIES!

High Energy Dance Classes!

In House Entertainment and Special Events


Manners and Leadership Classes

Exciting Craft Projects

Scrapbooking Classes

Scavenger Hunts

Team Activites


And SO MUCH MORE!
So what is the primary difference between our camps?  
All of our campers in, BOTH Camps, participate in all of the classes.  However, the Smart campers do not do any cheerleading classes.  Instead, their Smart Classes lead them in various Community Service Projects including:  making toys for the dogs and cats at the Humane Society; making birthday cards and toys for the homeless shelter and so much more!
Here is a what a sample class schedule looks like for our Smart Campers: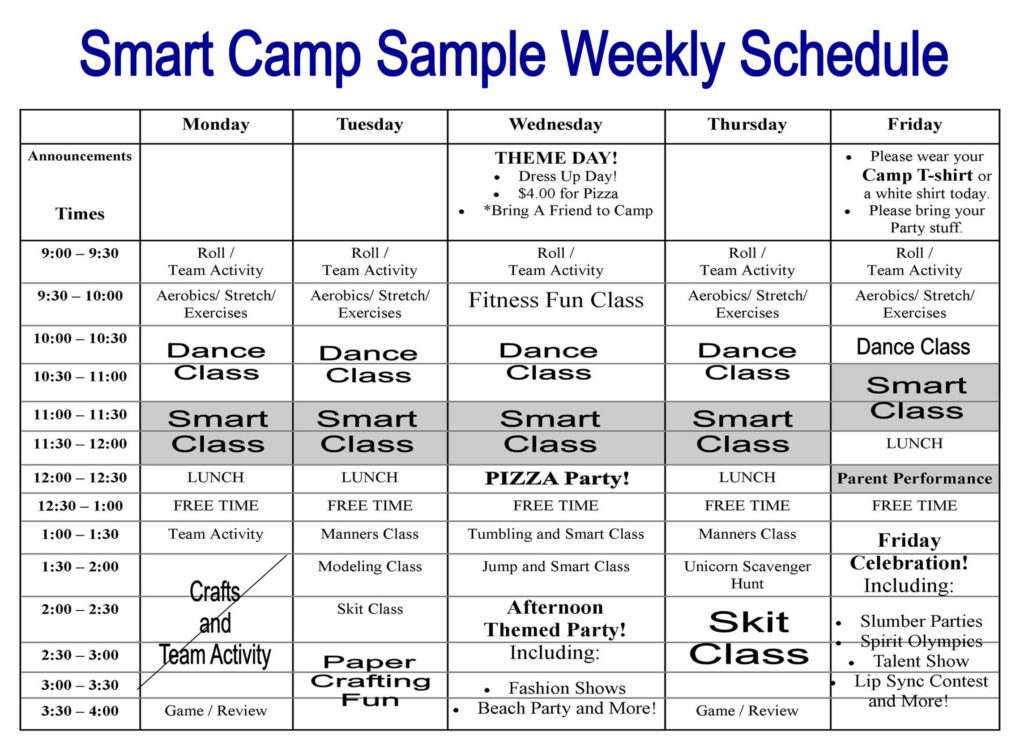 The following is a brief outline of SOME of the activities in our classes:
SMART CLASSES:
During Smart Class, our girls work on various Community Service projects including:  making toys for the dogs and cats at the Humane Society; making birthday cards and toys for the homeless shelter and so much more!

DANCE CLASS:
Our cheerleaders learn a variety of dance routines including Traditional "Jazz" Dance Routines and Fight Song Routines.
CONFIDENCE CLASSES:
This class is based on FUN, exciting and proven techniques and activities that will build your daughter's self confidence!
MODELING AND RUNWAY CLASSES:
Our Modeling Class is about posture and self confidence, not about fashion.
SKIT CLASSES:
Our Skit Classes are designed to be fun and to help all of our girls to be comfortable talking in front of people and working in a group. Our classes include skits, games, props and more!
TUMBLING CLASS:
Our Tumbling Class includes beginning tumbling skills like cartwheels, round offs, etc.
CRAFTS AND PAPER CRAFTING:
Each week our cheerleaders will complete various craft and paper crafting / scrapbooking projects including: Cheerleader Crafts, Mini Scrapbooks, Adorable Cards, Frames, and MORE!
MANNERS AND LEADERSHIP CLASSES!
We are proud to say that not only are we known for our outstanding cheerleading classes but also for our fantastic manners programs! Each week, we focus on 2 to 3 topics including the following:

Basic Manners

Compliments

Leadership

Table Manners

Responsibility

Respect

Manners Around Town

and more!
PARTIES, PARTIES, PARTIES!
Each summer we plan LOTS of FUN parties for our cheerleaders including our ACL Talent Show, Birthday Party for EVERYONE, Slumber Party and many more.

_____________________________________________
For more details just click on the topics below. 
If you have any questions, please feel free to contact our office at 954-748-5977. 
We look forward to an amazing summer with you! 
____________________________________________________
CAMP LINKS
*  General Camp Information and FAQ's
____________________________________________________________________

Save
Save
Save
Save
Save