Each week, all of our cheerleaders complete a variety of classes.  The class schedule is similar to the one below, however the curriculum in each of the classes change every week.  This way, all of our cheerleaders get a entire summer of fun, exciting, and new activities daily!  Here is a sample of our weekly class schedule: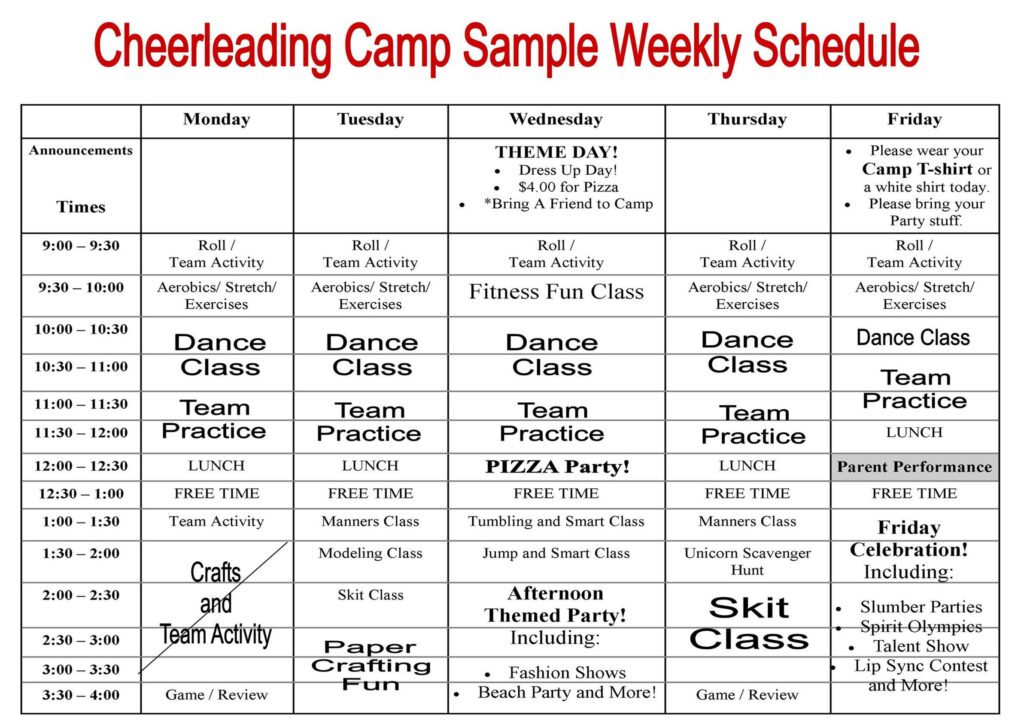 The following is a brief outline of SOME of the activities in our class:
CHEERLEADING CLASSES:
During our cheerleading classes, the campers learn various skills that are age and skill appropriate including:  Motions, Cheers and Chants, Jumps – Beginner to Advanced, STUNTS – Beginner to Advanced and Proper SAFETY TECHNIQUES!
DANCE CLASS:
Our cheerleaders learn a variety of dance routines including Traditional Cheer Dance Routines, Pom Pon Routines and Fight Song Routines.
CONFIDENCE CLASSES:
This class is based on FUN, exciting and proven techniques and activities that will build your daughter's self confidence!

MODELING AND RUNWAY CLASSES:
Our Modeling Class is about posture and self confidence, not about fashion.
SKIT CLASSES:
Our Skit Classes are designed to be fun and to help all of our campers to be comfortable talking in front of people and working in a group.  Our classes include skits, games, props and more!
TUMBLING CLASS:
Our Tumbling Class includes beginning tumbling skills like cartwheels, round offs, etc.
CRAFTS AND PAPER CRAFTING:
Each week our cheerleaders will complete various craft and paper crafting / scrapbooking projects including:  Cheerleader Crafts, Mini Scrapbooks, Adorable Cards, Frames, and MORE!
MANNERS AND LEADERSHIP CLASSES!
We are proud to say that not only are we known for our outstanding cheerleading classes but also for our fantastic manners programs!  Each week, we focus on 2 to 3 topics including the following:
PARTIES, PARTIES, PARTIES!
Each summer we plan LOTS of FUN parties for our cheerleaders including our ACL Talent Show, Birthday Party for EVERYONE and many more.  In addition, we have the following:
__________________________________________________________________
Save
Save
Save